WIND DIRECTION

LAUNCH

49°14'36.2″N (49.2434)
121°53'15.0″W (-121.8875)
Elevation: 680m ASL

LANDING ZONE

49°13'37.2″N (49.227)
121°53'49.2″W (-121.897)
Elevation: 30m ASL

RECOMMENDED*

SITE RATING

P2 or H2

WING TYPES

Paraglider
Hang Glider
Speedwing

SITE TYPE

Cross Country
Thermic
Soaring

* unless under direct instructor supervision.
Navigate to Launch: Click Here
Navigate to LZ: Click Here
About: Woodside is one of the WCSC's most high-profile and valued sites. The site has smooth coastal influenced air combined with pleasant thermals which are well away from the hill. The scenery is outstanding. Woodside can get crowded in spring and early summer. Please, land in designated landing fields only (see map and distinction between HG and PG LZ). Please respect our landowners.
* Update November 2021: Please note that the FlyBC Ranch is no longer in operation, and is not an option as an LZ! Riverside is the main LZ for paragliders.
Hazards: Be aware that outflow winds (north and east) can create dangerous rotor. This site can "blow-out" in the afternoon, especially in summer.
Launch Access: 2WD.
Follow Mt. Woodside Forest Service Road (FSR) 4.2 km (2.6 miles), take the left fork on the road. Take your next left and drive up a short steep hill. Park at the top of the hill if you don't have a 4WD.
Launch Description: The launch is a groomed gradual slope facing WSW at 2250′ (680 m) ASL. Set up area for 10+ gliders but can still get crowded at peak flying times. Large parking area. Clean takeoff. The old hang glider ramp is not in use anymore, and its condition is unknown.
Paraglider LZ: The 'Riverside LZ' is located south of the Lougheed Highway. The gate has a code. Please contact the sites director for the code and remember to close the gate behind you.
Hang Glider LZ: The 'Old LZ' is located on the north side of the Hwy 7, at the extreme east end of the Harrison Mills flat, just before the highway goes (east) uphill into the trees. The field is a cow pasture, so take necessary "precautions".
Site Regulations: The WCSC holds a tenure on the launch area, and has agreements in place for the use of landing fields. Follow the Site Safety Standards. HPAC Insurance and WCSC membership are required.
Airspace: CYA 132 (H) to 6000′ (1800 m) ASL (Maximum). Watch for small aircraft over Riverside LZ.
Radio Frequency:
Club: 146.415 MHz and 146.550 MHz
Aircraft: 123.4 MHz and 173.640 MHz
Site Director: 
Flying Season: Best XC potential is in the spring and early summer, but Woodside can deliver year round.
Leave with enough altitude to reach one of the designated LZs. In windy conditions, it can be a long glide.
House Thermals:
Cross-Country: Cross-country flights east to Agassiz Mt., Bear Mt., and on to Hope (beware of strong winds near Hope), or across the Fraser River to Bridal Falls have been made, or (usually) upwind flights west towards Dewdney. An easy and pleasant XC Flight is to go east to Harrison Hot Springs: a good place to soak your bones after a day of flying. Triangle flights across the Fraser River to Mt. Ludwig, Mt. Cheam, Bridal launch, and then back to Woodside have been done.
RASP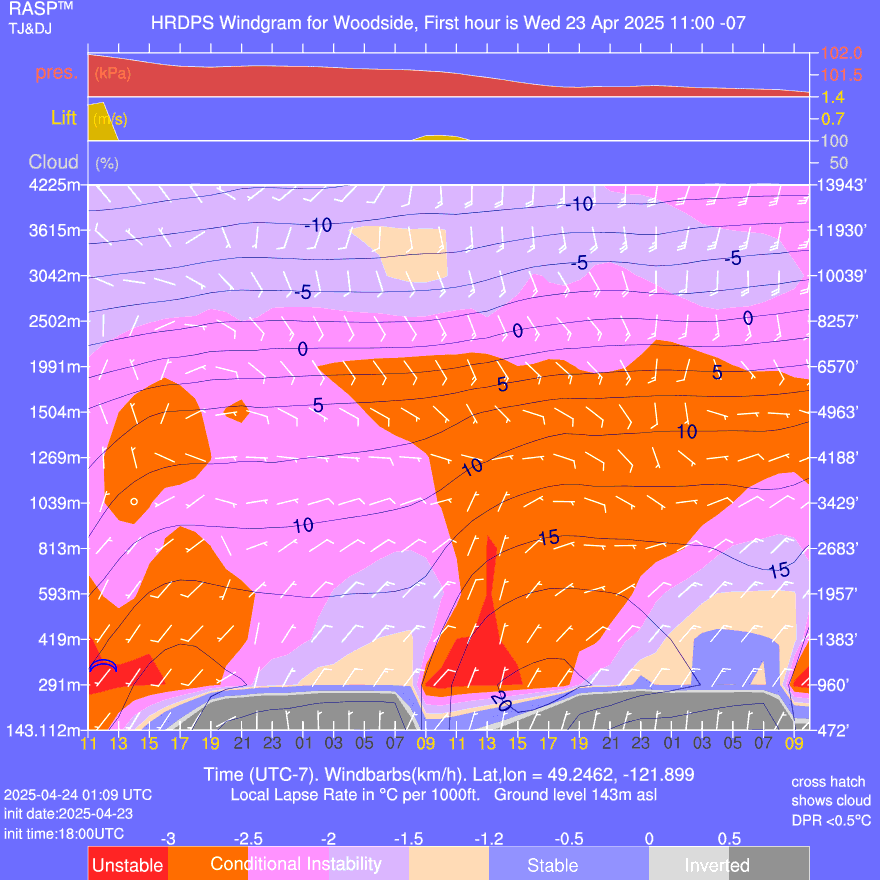 Your content goes here. Edit or remove this text inline or in the module Content settings. You can also style every aspect of this content in the module Design settings and even apply custom CSS to this text in the module Advanced settings.
Woodside Site Guide
At Mt. Woodside, there are a few things that you want to watch out for. 
Woodside Airspace
At Woodside, make sure not overfly the prison below 1100ft or land within the boundaries. The center of the valley is an airway for YVR, keep an eye out for traffic. 
Emergency Situations
Radio Frequency: 146.415 MHz
Emergency: 911
In the event of an incident, one person at the scene should take charge and delegate a single individual to contact Emergency Services.
All press enquiries should be referred to the Club President or Safety Officer. DO NOT speak to the press directly. Privacy laws prohibit the release of member details without permission.
Nearest Hospital
Chilliwack General
(604) 795-4141
45600 Menholm Rd, Chilliwack, BC
Search and Rescue
Kent Harrison SAR
(604) 798-2576
Discover More Flying Sites