WIND DIRECTION

LAUNCH

49°23'09.6″N (49.386)
123°04'35.0″W (-123.0764)
Elevation: 1200m ASL

LANDING ZONE

49°21'38.9″N (49.386)
123°06'09.9″W (-123.0764)
Elevation: 180m ASL

REQUIRED*

SITE RATING

P3

WING TYPES

Paraglider
–

SITE TYPE

Thermic
Soaring

* required due to the agreement with Grouse Mountain Management.
Navigate to LZ: Click Here
About: Grouse Mountain is on private property and is very high-profile. As a requirement of the ski resort, all pilots must get on the guest pilot list or join the Grouse Mountain Flying Team (GMFT). There is an additional fee to fly Grouse. Grouse Mountain flying is open to new members both local, visiting and guest pilots that hold a rating of P3 or above. All GMFT pilots receive complimentary lift passes up Grouse Mountain. 
Click here to join the Grouse Mountain Flying Team 
Grouse Mountain Flying Team (GMFT) is the managing body for paragliding at Grouse Mountain Resort. The GMFT books the exclusive use of the field during the summer when there are no baseball or soccer games. You must pre-arrange with a GMFT member to fly at Grouse Mountain. See the Flying Grouse page for more information.
Hazards:
• Strong east winds what may create a potentially dangerous rotor zone over the cliffs west of the gondola station. Avoid launching in strong east winds, and if in the air, take a wide flight path over the valley in order to avoid the rotor. In strong east wind, you may experience strong sink.
• Strong anabatic flow into the Capilano watershed (it will feel like east wind).
• Stay clear of the ridge to the West of the gondola station. In strong east wind, your return
from this ridge is difficult or impossible.
• The Cleveland Park LZ is surrounded by high trees, there are fences, and the field may be
used by people engaged in various sporting activities. For this reason, visit the landing field
before heading up the mountain, and plan your landing approach carefully.
• Both Cleveland Park and Handsworth Field are highly thermic in the middle of the day.
Launch Access: 2WD.
From Highway #1, travel north along Capilano Road/Nancy Greene Way to the end. You will need to sign in and get your pass from guest services. Then take the Gondola to the top of the mountain. Then walk over to the peak chair and take that up to launch.
Launch Description: 4000′ (1200 m) ASL SSW facing launch with excellent groomed slope on ski hill. Moderately sized set-up area on a rocky and bushy ski slope. Get a good clean run as sink could be present just in front of launch.
Paraglider LZ: 600′ (180 m) ASL We land at Cleveland Park, a sports field at the base of Grouse Mountain. The GMFT arranges with the District of North Vancouver to use the field and pilots pay a user fee, just like the soccer and baseball players that also use the field. The GMFT has exclusive use of the field during the summer when there are no sports games booked. The LZ is very tight surrounded by high trees, houses, backstops and busy roadway. Sports may be in progress also. The best approach is a westerly downwind, then turn behind / in front of the tree off the southwest corner of the LZ. Head north over houses on the west side of the road (closer to the field if sink is present). When in line with the filed make a right turn, dive for the edge of the field, ground skims across the field and flair!
Site Regulations: Formal HPAC Insurance, P3 rating and approved GMFT guest pass. A skills demonstration and log book may also be required. Read all rules and procedures here.
Airspace: CYA 133 (H) to 5000′ (1524 m) ASL.
Radio Frequency:
Club: 146.415 MHz and 146.550 MHz
Aircraft: 123.4 MHz and 173.640 MHz
Site Director: Eric (604) 555-5555
Flying Season:
Excellent in spring and summer.
House Thermals:
Cross-Country: Cross-country at Grouse Mountain is limiting because of the airspace restrictions.
RASP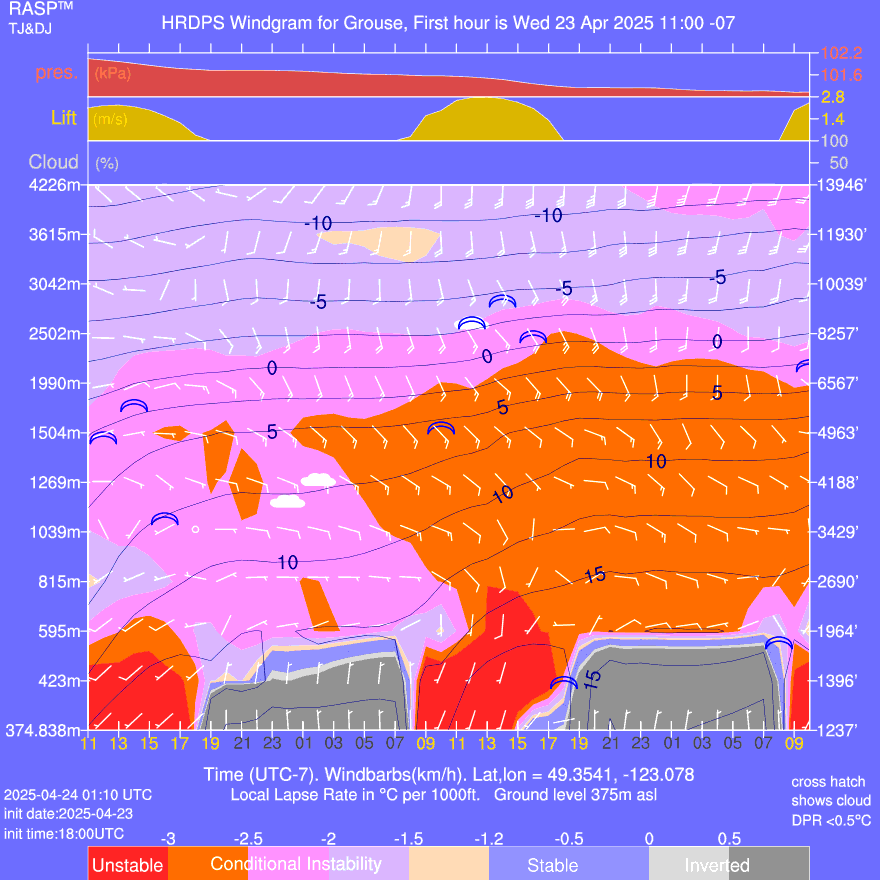 Your content goes here. Edit or remove this text inline or in the module Content settings. You can also style every aspect of this content in the module Design settings and even apply custom CSS to this text in the module Advanced settings.
Grouse Mt. Site Guide
Flying Grouse is a fantastic privilege. Take a look through this detailed guide to get all the information so you can have a fun safe flight.
Grouse Mountain Airspace
Grouse Mountain has a CYA for paragliders located over the Grouse Mountain resort. You will also notice the Class C airspace that starts at the upper levels highway.
Emergency Situations
Radio Frequency: 146.415 MHz
Emergency: 911
Any incident or accident is to be reported immediately, first only to Grouse Mountain Resorts Ltd. (604-980-9311) and then to a GMFT Director. In the case of a serious incident/accident, immediately call 911
All press enquiries should be referred to the Club President or Safety Officer. DO NOT speak to the press directly. Privacy laws prohibit the release of member details without permission.
Nearest Hospital
Lions Gate Hospital
(604) 900-3131
231 15th St. E, North Vancouver
Search and Rescue
North Shore Rescue Society
(778) 338-6300
Discover More Flying Sites