WIND DIRECTION

UPPER LAUNCH

50°21'55.8″N (50.3655)
122°47'12.5″W (-122.7868)
Elevation: 1200m ASL

LOWER LAUNCH

50°21'08.6″N (50.3524)
122°47'56.8″W (-122.7991)
Elevation: 750m ASL

LANDING ZONE

50°20'06.0″N (50.335)
122°48'50.4″W ( -122.814)
Elevation: 220m ASL

RECOMMENDED*

SITE RATING

P2 or H3

WING TYPES

Paraglider
Hang Glider

SITE TYPE

Cross Country
Thermic

* unless under direct instructor supervision.
How to Get here
Navigate to Upper Launch: Click Here
Navigate to Lower Launch: Click Here
Navigate to Primary LZ: Click Here
Navigate to Beer Farmers LZ: Click Here
Hike to Launch
Download Trail to Lower Launch
Download Trail to Upper Launch
About:
Hazards:
The Whistler Express (strong wind).
This site can get a strong inflow flowing in from the Whistler Valley. It is localized over the town of Pemberton. It may not be possible to detect this wind on launch or while flying. Look for the big white windsock on "the Dome" out front of the lower launch. If it is outstretched from a South (wind from the left looking from launch) avoid launching into it. If you are already in the air returning to land, call for radio confirmation of wind conditions in the LZ. If the "Express" has arrived, it's not a big deal just fly NW down Pemberton Meadows, or SE and land in one of the big fields towards Lillooet Lake.
North and East Winds.
Watch for strong or gusty SE winds in the LZ. These winds can signal turbulent air in front of launch, even if the socks on launch are looking good. Both N and E winds can create leeside conditions.
Launch Access: 4WD.
Both launches are accessed from McKenzie Basin FSR, located at the end of Pemberton Farm Rd East. Lower is approx 6km and Upper is approx. 12km up an extremely rough 4×4 decommissioned logging road. If you drive up, do not block the turn-around area. Please keep all motorized vehicles off the launch… ground cover is hard to grow and establish.
Shuttle Services are running to launch from the primary LZ (see shuttle service under "local info" tab).
Launch Description: The launch is a groomed gradual slope. Set up area for 10+ gliders but can still get crowded at peak flying times. Large parking area. Clean takeoff. The old hang glider ramp is not in use anymore, and its condition is unknown.
Paraglider LZ: Both LZ's are located along the west side of Pemberton Meadows Road, 1.5km north of the town center of Pemberton (just prior to Taylor Rd.). The sports field is obvious, with a large parking area in front. The Alternate LZ (Wray's field) is directly behind it, across a ditch. There is a bridge for access to the Wray's field located in the NW corner of the sports field (the back right corner from the parking lot). KEEP THE GATES CLOSED BETWEEN THE TWO LZs… there are regularly a few cows on the Wray's property.
Hang Glider LZ: For HG, it is recommended that you hold a H3 rating for landing at the Wray's and an H4 for landing at the sports field. It is a tight and technical landing. Long grass can make landing tricky in Wray's at certain times. Make sure to walk the LZ prior to going up to launch.
Miller LZ (Beer Farmers Brewery): 220m ASL, with a 8:1 glide from Upper launch. (great for Hang Gliders)
The LZ is the field before the brewery, the fields may have crops, please visit the LZ before going up to Launch.
Note: if you are to walk to the Brewery, please walk or drive over the street (please don't walk across the field and farm installation, and please leave the livestock alone)
Site Regulations: HPAC & WCSC memberships are REQUIRED by our landowners and for the shuttle service. Both memberships can easily be purchased in yearly or temporary form, with both local and visitor price options, either online or via the shuttle driver. These memberships protect our landowners and help us protect, maintain and develop this site. PLEASE DON'T JEOPARDIZE THIS SITE by flying without this coverage.
The Sports field MUST NOT be landed in if there are ANY other activities being done with MORE THAN 5 NON-PILOTS ON ANY PART OF THE FIELDS, or if there is ANY maintenance (cutting, watering, line painting) being done. Please land at the Wray's field in any of these situations. In any doubt, land at the Wray's.
There is CURRENTLY NO COMMERCIAL access to the designated LZ's. This means no students, no tandems, no guiding utilizing these fields -with the exception of non-commercial (family, non-paid) tandems that may land at the Wray's ONLY(passengers must have a WCSC and HPAC waiver signed). A local school has negotiated its own private pay-for-use agreement with different landowners for their commercial landings. Others are welcome and encouraged to pursue agreements to open up access. We are currently in negotiations with landowners to get commercial access for all, and it is pertinent that we abide by the rules they layout so we can get this much-needed agreement.
Please don't jeopardize this site and our agreements by illegally landing at these sites.
Airspace: CYA 116 (H) to 10,000′ (3048 m) ASL (Maximum). Class B Airspace above 12,500′ (3810m) Watch for helicopter traffic from helicopter bike tour operations
Radio Frequency:
Club: 146.415 MHz and 146.550 MHz
Aircraft: 123.4 MHz and 173.640 MHz
Site Director: Dave A.
Flying Season: Best XC potential is in July – September
House Thermals: The first house thermal is located just off upper launch to the right. Overtop of a scree slope. The other house thermal is located to the left of launch if you follow the ridge down to lower launch.
Cross-Country: Pemberton is still growing its XC routes. The main route is usually NW to Owl Mountain(10KM), Goat Mountain (25KM), and WEST across the Hurley Pass out to Meager Mountain and beyond (>70KM, limited out landings), or NORTH to Goldbridge and beyond (>120KM limited landings)
Southbound to Whistler (20KM, limited out landings), SE to and along Lillooet Lake, Harrison Lake and beyond (flights to Agassiz have been made, >140KM)
Eastbound to Birkenhead (20KM), and across the Duffy Lake Road area to Lillooet and beyond (>170KM)
Hike and Fly: Hike and fly is popular at this site. There are a variety of trail options. Some people choose to park at the base of the FSR and hike the road (parking at the lot at the base, or at the "three way" junction about 1km further up the road, where the FSR meets with Reid Rd). There is a trail from the train trestle on Urdal Rd (20min walk from the LZ) to lower launch, called "Cloudbase Grind." The trail has signs staring at the railway trestle, and at key locations along the route. Be advised that the trestle is technically private property and a fine is possible for walking over it… however it is used all the time, as the town has built a trail right to it. Don't be on it when trains are transiting. There is a walkway on the south side. The trail drops off to the left, shortly after the trestle. Follow it along until it joins an old logging road and continue left along the river. Watch for a "Cloudbase Grind" sign off to the right side of the logging road that will take you on a trail up the hill. There is a trail called"Middle Earth" that can be taken from lower to Upper Launch. From Lower launch, follow the gravel road to the left to connect back with the junction of the MacKenzie FSR. The trailhead for "Middle Earth" is left, on the inside curve of the Mackenzie FSR. It is well signed.
Walk time is approximately +/- 60min from trestle to lower (same from 3way to lower launch on the road), and a further +/- 60min from lower to upper (for a fit hiker at a good pace).
The shuttle will take your wing up for you for a fee and you can hike without your gear if you so choose, when service permits. For more detail, contact Mike Sedan (contact at top), who hikes to lower launch most flyable days.
Vol Biv: Yes
RASP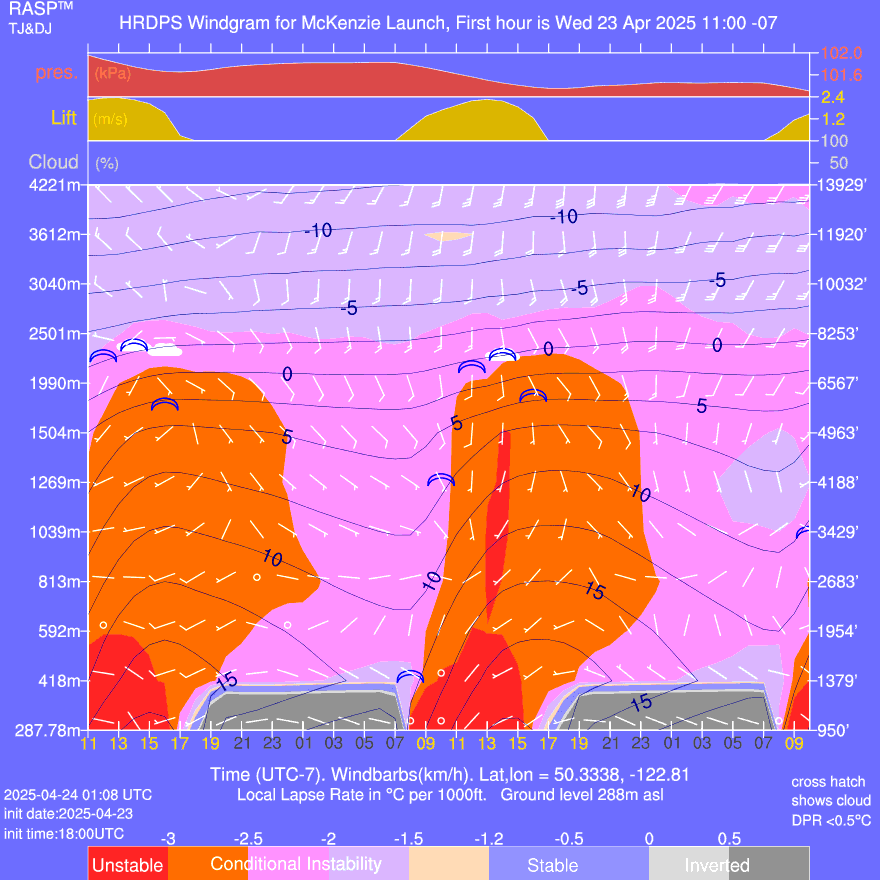 Shuttle Service: There is a regular shuttle that runs to both launches during the main flying season. The shuttle requires a minimum of 4 pilots and its usual run times are 9am, 11am, 1pm… and evening run around 6pm, when numbers permit. Custom schedules can be provided with 4 or more pilots, and special runs to other sites in the area are arranged from time to time (Miller Ridge, Birkenhead, overnights on launch, etc). 11am shuttles are the busiest on weekends… plan accordingly. School Services have priority.
The shuttle can be picked up from the LZ or at the base of the FSR or 3-way
Costs are $10 to lower, $20 to upper, half price for bags only (for hike and fly). Discounted multi-passes available.
Contact: Guy 778-892-7733 or Ricardo 604-352-5171
Facebook Shuttle Page
Mckenzie Site Guide
At Mt. Woodside, there are a few things that you want to watch out for. Do not overfly the prison. 
Mckenzie Airspace
At Mckenzie there is a CYA for Paraglider and Hang Glider pilots along the ridge that we fly up to 10,000ft (3048m). You will want to keep an eye out for Helicopter traffic from the Heli bike tour operators. Be aware of air traffic to and from Pemberton airport.
Emergency Situations
Radio Frequency: 146.415 MHz
Emergency: 911
In the event of an incident, one person at the scene should take charge and delegate a single individual to contact Emergency Services.
All press enquiries should be referred to the Club President or Safety Officer. DO NOT speak to the press directly. Privacy laws prohibit the release of member details without permission.
Nearest Hospital
Chilliwack General
(604) 795-4141
45600 Menholm Rd, Chilliwack, BC
Search and Rescue
Kent Harrison SAR
(604) 798-2576
Discover More Flying Sites