WIND DIRECTION

LAUNCH

49°10'15.7″N (49.171)
121°44'46.4″W (-121.7489)
Elevation: 750m ASL

LANDING ZONE

49°10'57.4″N (49.1826)
121°45'17.3″W (-121.7548)
Elevation: 50m ASL

RECOMMENDED*

SITE RATING

P2 or H3

WING TYPES

Paraglider
Hang Glider
Speedwing

SITE TYPE

Cross Country
Thermic
Soaring

* unless under direct instructor supervision.
Navigate to Launch: Click Here
Navigate to LZ: Click Here
About: Bridal Falls is a valued West Coast Soaring club site located 100 km (60 miles) east of Vancouver between Chilliwack and Hope on the Trans Canada Highway. Bridal Falls is a wonderful site with breathtaking scenery, and possible PG top landings. Flyable just about every day during the summer.  Bridal Falls is typically and afternoon/evening site. Please remember to respect landowners.
Hazards: This launch is often affected by crosswinds. New pilots or pilots not familiar with the site should only fly after experienced pilots assess conditions. Swirling winds at this site can make it difficult to launch safely. Be very cautious. Get a launch briefing before setting up, and please do not fly alone.
Launch Access: 4WD.
4WD only. From the paraglider LZ, take Bridal Falls Road East. Turn right on to Popkum Rd and then turn left at the T intersection. Follow the road which soon after another right turn turns into a steep gravel road. Follow this road all the way to the Launch.
Launch Description: The Launch is well-groomed, has a large set-up area and is WNW facing. The launch is at 2500′ (750 m) ASL and is mainly used by paragliders and speedwings. The outhouse is located at the back right corner of the Launch.
Paraglider LZ: 150′ (50 m) ASL. Primary LZ is the large mowed area situated in the middle of tall grass. The LZ is located on the east side of the Bridal Falls Golf Course, the opposite side of the driving range to the southeast. The primary LZ is not particularly well suited to HG landings.
Hang Glider LZ: There is a huge Hang Glider LZ on the north side of the highway on McElwee Rd which is visible from launch. To access the Hang Gliding LZ take the Bridal Falls overpass and turn left (South) onto Yale Road E. Proceed 3.3 Km and turn left onto McGrath Road, turn left onto Nevin Rd. and .6 km later turn right onto McElwee. The landing fields rotate under crop but are normally to the East side of the road which has a blue steel gate. Make sure the gate is left closed.
Site Regulations: The WCSC has tenures on the lower launch, upper launch, and the landing zone. There are also arrangements in place for the use of other landing fields.  HPAC insurance and WCSC membership are required.  Please respect the site and the work that many have put into it.
Airspace: CYA 105 (H) to 8000′ ASL. Watch for glider planes on the mountains and YVR traffic if high in the valley.
Radio Frequency:
Club: 146.415 MHz and 146.550 MHz
Aircraft: 123.4 MHz and 173.640 MHz
Site Director: 
Flying Season: The best season for Bridal is the beginning of April into fall.
House Thermals: Just off launch around to the left is almost guaranteed to get you up over launch. Then work it up the ridge that leads to the top range behind the launch. You can also find a thermal over to the right of launch as well that can be nice and strong. 
Cross-Country: The most popular flight is west down the range to Elk mountain and back. Cross-country flights to Ludwig, Hope, and Gloria mountain. Out and returns, flights along the ridge, and flights benching up to Mount Cheam and flights across the Fraser River have been done.
RASP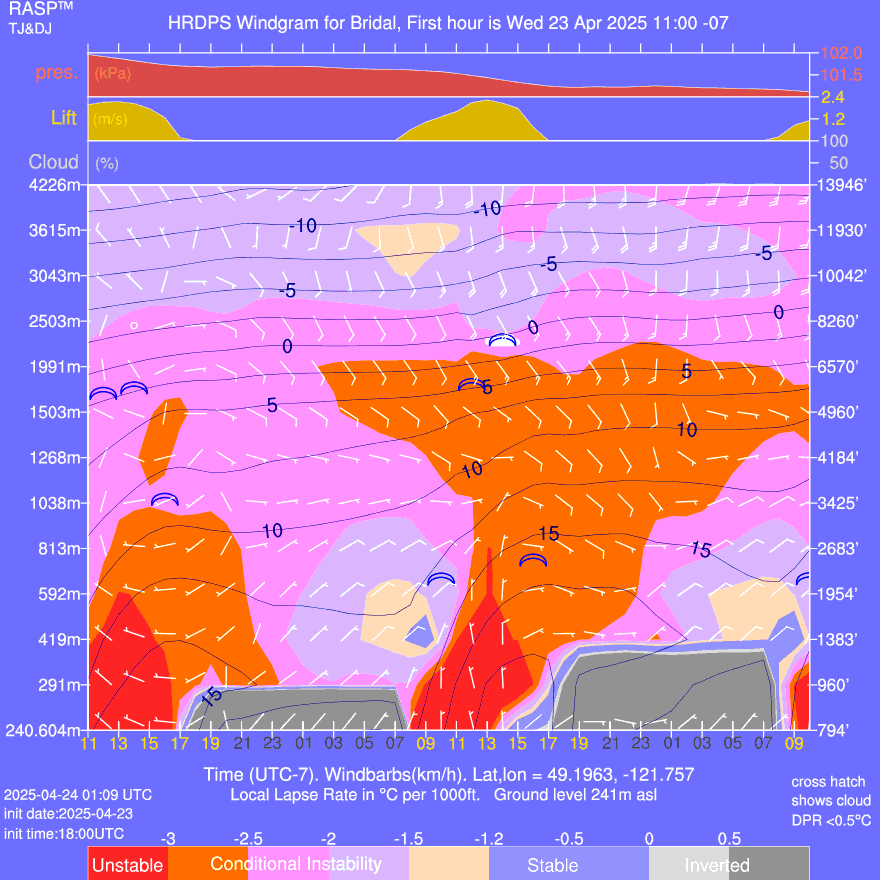 Your content goes here. Edit or remove this text inline or in the module Content settings. You can also style every aspect of this content in the module Design settings and even apply custom CSS to this text in the module Advanced settings.
Bridal Falls Site Guide
Bridal Falls is a great site to bag your first XC flights. Follow this site guide to get the most out of your flight at Bridal Falls 
Bridal Falls Airspace
At Bridal falls there is not much in the way of airspace that you have to worry about. If you decide to go XC and cross the valley you will want to look out for the YVR flight path and the prison airspace near Woodside.
Emergency Situations
Radio Frequency: 146.415 MHz
Emergency: 911
In the event of an incident, one person at the scene should take charge and delegate a single individual to contact Emergency Services.
All press enquiries should be referred to the Club President or Safety Officer. DO NOT speak to the press directly. Privacy laws prohibit the release of member details without permission.
Nearest Hospital
Chilliwack General
(604) 795-4141
45600 Menholm Rd, Chilliwack, BC
Search and Rescue
Kent Harrison SAR
(604) 798-2576
Discover More Flying Sites